Everyone Needs Someone
by: Helen Steiner Rice, Wendy's Page
People need people and friends need friends,
And we all need love for a full life depends-
Not on vast riches or great acclaim,
Not on success or on worldy fame,
But just in knowing that someone cares,
And holds us close in their thoughts and prayers-
For only the knowledge that we're understood,
Makes everyday living feel wonderfully good,
And we rob ourselves of life's greatest need,
When we "lock up our hearts" and fail to heed,
The outstretched hand reaching to find,
A kindred spirit whose heart and mind,
Are lonely and longing to somehow share,
Our joys and sorrows and to make us aware,
That life's completeness and richness depends,
On the things we share with our loved ones,
and friends.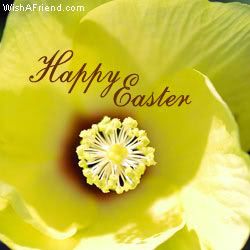 Myspace Graphics
at WishAFriend.com
Easter Reflections
by: Helen Steiner Rice, Wendy's Page
With OUR EYES we see
the beauty of Easter
as the earch awakens once more...
With OUR EARS we hear
the birds sing sweetly
to tell us Spring again is here...
With OUR HANDS we pick
the golden daffodils
and the fragrant hyacinths...
But only with OUR HEARTS
can we feel the MIRACLE of GOD'S LOVE
which redeems all men...
And only with OUR SOUL
can we make our 'pilgrimage to God'
and inherit His Easter Gift of ETERNAL LIFE.
Easter Prayer, An
by: Helen Steiner Rice, Wendy's Page
God, give us eyes to see
the beauty of the Spring,
And to behold Your majesty
in every living thing -
And may we see in lacy leaves
and every budding flower
The Hand that rules the universe
with gentleness and power -
And may this Easter grandeur
that Spring lavishly imparts
Awaken faded flowers of faith
lying dormant in our hearts,
And give us ears to hear, dear God,
the Springtime song of birds
With messages more meaningful
than man's often empty words
Telling harried human beings
who are lost in dark despair -
'Be like us and do not worry
for God has you in His care'.
Climb Till Your Dream Comes True
by: Helen Steiner Rice, Wendy's Page
often your task will be many,
and more than you think you can do..
often the hills insurmountable, too..
but always remember..
the hills ahead are never as steep as they seem,
and with faith in your heart, start upward
and climb 'til you reach your dream.
for nothing in life that is worthy
is ever too hard to achieve
if you have the faith to believe..
for faith is a force that is greater
than knowledge or power or skill
and many defeats turn to triumph
if you trust in god's wisdom and will..
there is nothing that god cannot do,
so start out today with faith in your heart
and climb 'til your dream comes true.



Bright New World, A
by: Helen Steiner Rice, Wendy's Page

We feel so sad when those we love
Are touched by deaths dark hand,
Bu it would ease our sorrow
If we could but understand
That death is just a gateway
That all men must pass through
And on the other side of death,
In a world that's bright and new,
Our loved ones wait to welcome us
To that land free from tears
Where joy becomes eternal
And time is not counted by years.



A Mother's Love
A Mother's love is something that no on can explain,
It is made of deep devotion and of sacrifice and pain,

It is endless and unselfish and enduring come what may
For nothing can destroy it or take that love away . . .

It is patient and forgiving when all others are forsaking,
And it never fails or falter seven though the heart is breaking . . .

It believes beyond believing when the world around condemns,
And it glows with all the beauty of the rarest, brightest gems . . .

It is far beyond defining, it defies all explanation,
And it still remains a secret like the mysteries of creation . . .

A many splendoured miracle man cannot understand
And another wondrous evidence of God's tender guiding hand.
~Helen Steiner Rice~
AN INSPIRATIONAL POEM
When things go wrong, as they sometimes will,When the road you're trudging seems all uphill,When the funds are low and the debts are high,And you want to smile, but you have to sigh,When care is pressing you down a bit-Rest if you must, but don't you quit.
Life is queer with its twists and turns,As every one of us sometimes learns,And many a fellow turns aboutWhen he might have won had he stuck it out.Don't give up though the pace seems slow -You may succeed with another blow.
Often the goal is nearer thanIt seems to a faint and faltering man;Often the struggler has given upWhe he might have captured the victor's cup;And he learned too late when the night came down,How close he was to the golden crown.
Success is failure turned inside out -The silver tint in the clouds of doubt,And you never can tell how close you are,It might be near when it seems afar;So stick to the fight when you're hardest hit -It's when things seem worst that you must not quit.
~By Helen Stiener Rice~


Myspace Graphics at WishAFriend.com

~ Helen Steiner Rice ~
--------------------------------------------------------------------------------
We cannot all be famous
Or be listed in "Who's Who,"
But every person, great or small,
Has important work to do.
For seldom do we realize
The importance of small deeds,
Or to what degree of greatness
Unnoticed kindness leads.
For it's not the big celebrity
In a world of fame and praise,
But it's doing unpretentiously
In an undistinguished way.
The work that God assigned to us,
Unimportant as it seems,
That makes our task outstanding,
And brings reality to dreams.
So do not sit and idly wish
For wider, new dimensions
where you can put into practice,
Your many good intentions.
But at the spot God placed you
Begin at once to do,
Little things to brighten up
The lives surrounding you.
If everybody brightened up
The spot where their standing,
By being more considerate,
And a little less demanding.
This dark old world would very soon
Eclipse the evening star,
If everybody brightened up
The corner where they are!
How often we wish for another chance
to make a fresh beginning.
A chance to blot out our mistakes
And change failure into winning.
It does not take a new day
To make a brand new start,
It only takes a deep desire
To try with all our heart.
To live a little better
And to always be forgiving
And to add a little sunshine
To the world in which we're living.
So never give up in despair
And think that you are through,
For there's always a tomorrow
And the hope of starting new.
Helen Steiner Rice
Helen Steiner Rice (1900-1981)
--------------------------------------------------------------------------------
Rice was born in Ohio into a family of immigrants. Often referred to as "poet laureate of inspirational verses" Rice dreamed of attending college and one day became a congresswoman.
Her ambition was shattered when her German father died during the Spanish Flu epidemic in 1918, making her the sole breadwinner of the family. To make ends meet she worked at a lighting company, helping other women to decorate lampshades.
She climbed up the corporate ladder until she managed to get to the position of advertising manager.
Due to the nature of the business, this petite lady (she's less than 5 feet tall) went criss-crossing the nation for lectures in her industry. During this time she met a young and rich banker and married him. After their honeymoon, Rice lived in a 14 rooms house, complete with 3 expansive cars at her disposal.
On the same year, the stock market crashed and her husband lost his job, went broke and both were in enormous debt. Rice went back to work for a greeting card company to make ends meet. One day while at work, her husband committed suicide. She was a young widow at 32.
Her work writing verses at the greeting card company was where she made her mark in the literary circle with her inspirational poetry. During her lifetime she published around 10 books of poetry but after her death, her foundation published 65 more.
She suffered from arthritis during her old age. At 79, she fell, broke her hips and two years later Helen died – leaving behind a Helen Steiner Foundation to help the poor and needy; and a collection of beautiful inspirational poetry to the rest of the world.
Our Father knows what's best for us,
So why should we complain ...
We always want the sunshine,
But He knows there must be rain.
We love the sound of laughter
And the merriment of cheer;
But our hearts would lose their tenderness
If we never shed a tear.
Our Father tests us often
With suffering and with sorrow;
He tests us, not to punish us,
But to help us meet "tomorrow."
For growing trees are strengthened
When they withstand the storm;
And the sharp cut of the chisel
Gives the marble grace and form.
God never hurts us needlessly,
And He never wastes our pain;
For every loss He sends to us
Is followed by rich gain.
And when we count the blessings
That God has so freely sent;
We will find no cause for murmuring
And no time to lament.
For Our Father loves His children,
And to Him all things are plain;
So He never sends us "pleasure"
When the "soul's deep need is pain."
So whenever we are troubled,
And when everything goes wrong,
It is just God working in us
To make "our spirits strong."
~ Helen Steiner Rice ~
A Friend loves at all times
Proverbs 17:17